When my cat went missing, it was one of the most traumatic and stressful moments of my life. There was no way I was willing to take that risk again, so I started researching Cat Trackers and I've now tried 3 different products; this page is a summary of the 3 that I own (Tab Cat, Weenect and Pod 3 Trackers), plus some well-researched information about some other products available.
Cat trackers are available with lots of different types of technology to locate your cat should s/he go missing. If you don't know the difference between GPS and Bluetooth, Radio Frequency or WiFi, then this guide is for you!
This article contains everything you need to know about cat trackers as well as a comparison of the best cat trackers for sale at the moment! If you're looking for the best tracker, you're in the right place!
Buying a Cat Tracker: What You Need to Know
Cat tracking devices in 2020 come with a lot of modern features which are very useful for concerned cat owners. This information should help you understand what all of these features do, so you can choose the best cat tracker for you and your cat.
GPS vs. Cellular Data vs. Radio Frequency
Most cat trackers either rely on GPS, Radio Frequency, or a combination of the two. GPS relies on having a mobile signal and access to mobile data, this usually requires a SIM Card with a subscription. That means, opting for a GPS cat tracker means an additional monthly or annual cost.
Cat Trackers that use Radio Frequency instead of, or in addition to GPS have the added bonus of working when there's no mobile signal at all, or if you don't want to pay a monthly subscription cost.
Radio Frequency doesn't need fancy apps, data plans or signal to work. However, it can't provide location history, real-time tracking, and virtual fencing. If you live in an area where cellular reception is generally poor, then a GPS or cellular tracker probably isn't right for you, whereas a radio frequency tracker will work regardless of cell reception.
Real-time Alerts and Location History
If you want to be able to see your cat's location in real-time and spy on where s/he's been, then you'll want a cat tracker with these features.
Almost all of the GPS Cat Trackers will have this, usually via a mobile app or web platform that allows you to see exactly where your cat is at any given moment in real-time.
Voice call Function
Some cat owners like to be able to speak to their cats from a distance. Many of the cat trackers on this list have a feature where you can call the device on your cat's collar, talk to him/her to provide a reassuring voice, and even listen to your cat too!
If this sounds like something you need, then look for a cat tracker with this feature, such as the Weenect GPS Cat Tracker (with a monthly subscription).
Battery Life
The battery life and types of batteries used in cat trackers can vary massively. Some are rechargeable using a USB, others will need the batteries replacing.
Water Resistance
If your cat goes out a lot in the rain or is likely to get wet, then having a water-resistant or waterproof tracker can save you a lot of money!
Virtual Fencing
Having a cat tracker with virtual fencing allows you to set up a virtual 'safe zone' near your home. If your cat leaves that area, then you get an alert sent to your phone to let you know. If you also have real-time tracking, you'll be able to see exactly where your cat is and ensure they don't get lost!
---
Best Cat Tracking Devices of 2022
Here's an overview of some of the best cat tracking devices available at the moment. We've also reviewed a fair amount of these trackers as I own a few of these myself, so make sure to read the full reviews if you want to know more information about any of these cat trackers! You can also leave a comment on this post if you have any other questions that are not answered here.
Comparison Table
This handy comparison table compares all of the cat tracking devices in this list for you to compare their features and find the best cat tracker that suits your needs. You can scroll from right-left to see the full table if you're using a mobile (there's no need to zoom out).
---
Weenect GPS Cat Tracker
Weenect is a cat tracker that contains Global Positioning System (GPS) technology. It uses the GPS technology to detect the location of your cat, by means of a tracking device that attaches to your cat's collar and a mobile app. It tracks your cat from your smartphone and has a wide range of features.
In order to work, the Weenect tracker requires a subscription to their tracking service, which allows you to access the tracking technology, web platform, and mobile app. Weenect is a highly advanced tracker for your cat, with many useful features.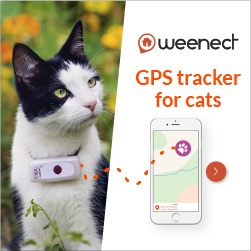 Weenect Features
Mobile App
Requires a monthly/annual data plan
Water resistant
Real-time tracking
Location history
Voice call – talk to your cat from a distance
Runaway alert
Rechargeable battery
Read our full review of Weenect Cat Tracker or Click here to reveal the current price
---
TabCat Cat Tracker
Tab cat is a cat tracker that contains award-winning technology. It uses radio frequencies to detect the location of your cat, by means of a credit card sized plastic handheld device and dime-sized trackers that attach to your cat's collar. It has a long battery life and each Tab cat device can have up-to 4 tracker chips registered to it. The handheld device uses lights to point you in the right direction of your cat; they glow red when far away and green when you're close. It's very easy to use and a cost-effective, discreet way to locate your cats if they go missing.
TabCat Features
Award-winning technology
Uses Radiofrequency
Works without a mobile signal
Multi-cat tracking
Long battery life
Comes with a water-resistant case
Weighs just 6 grams (0.2oz)
No monthly plan required
Read our full review of the TabCat Cat Tracker or click here to reveal the current price.
---
Whistle 3 GPS Pet Tracker & Activity Monitor
This all-in-one cat tracker and activity monitor will only work in the US, as it uses AT&T's cellular network, meaning that it won't work in any other location. It can track your cat's location in real-time, provide you with alerts when your cat wanders too far and provide you with 24-hours' worth of location history.
Whistle 3 GPS Pet Tracker Features
Multi-signal tracking; GPS, WiFi & cellular
Mobile App
Virtual fencing and safe zones
Activity monitoring
24-Hour location history
Battery lasts approximately 2 days before it needs charging
Requires a monthly/annual data plan with AT&T
Only works in the USA
Very small and lightweight.
Click here to reveal the current price.
---
PABY Pet Tracker
The PABY Pet Tracker is an all-in-one cat tracking device for anxious cat owners on a budget. It comes with all of the standard features that you would expect, utilizing multiple forms of technology to track your cat. But it is lacking a voice call function and chip loss alarm.
When I first saw this cat tracker, the image makes it look like a Spiderman Tobacco Tin, but it is in fact much smaller than it appears when you're looking at in on Amazon!
PABY Pet Tracker Features
Uses GPS, cellular data and WiFi to track your cat
Integrated sound and light features to find your cat in dark places
Virtual fence feature; create unlimited 'safe zones'
Activity monitoring
Location history
Battery lasts 2-3 days before it needs charging
Requires a monthly/annual data plan
Works in over 80 countries
Click here to reveal the current price of the PABY Pet Tracker
---
This post contains affiliate links. That means that, at no extra cost to you, we may receive a small commission if you buy a product using one of the links on this page. Read our full disclosure here.