If your friend's cat has gone missing, consider it as if their child has gone missing. Cats are part of the family, if you've got pets too then you'll know exactly what this must feel like. If you don't have pets yourself, then you're probably wondering what you can do to help a friend who has a missing cat.
It's the not knowing that's the worst part. Your friend is going through a considerable amount of stress right now and you need to be there for them.
If you're not a cat person, it can be difficult to know what to suggest in this situation, so this article is here to help you support your friend and help them locate their lost kitty.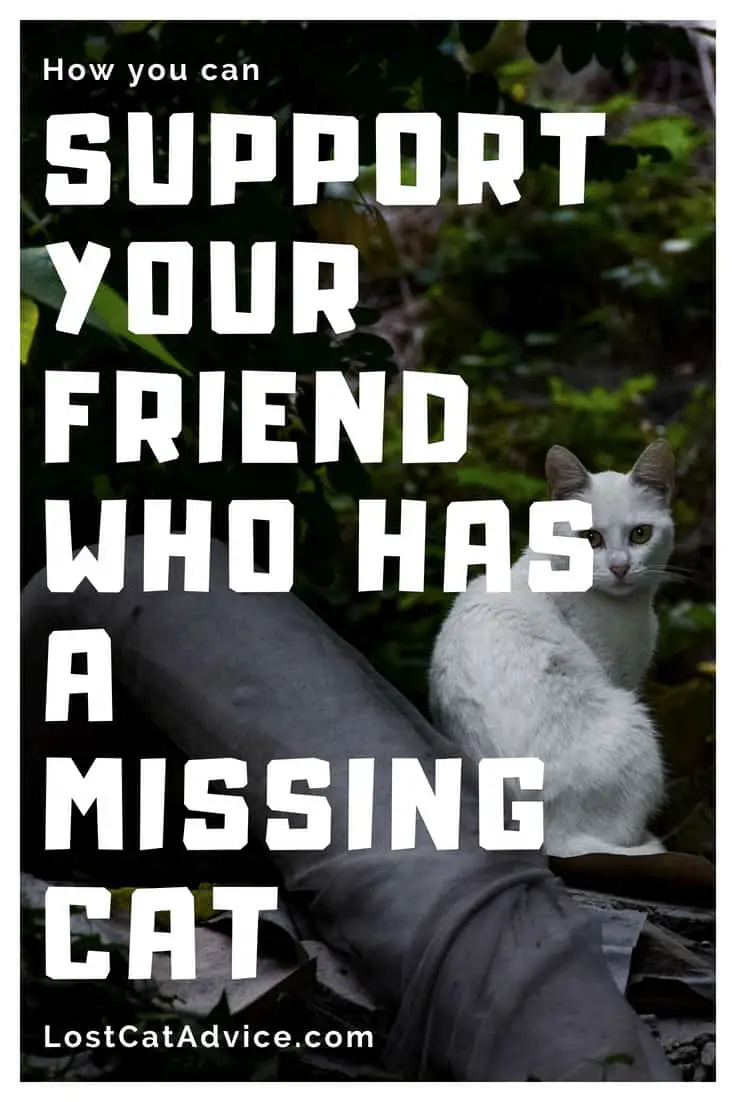 Be There for Them
Visit your friend to offer support. Go around and offer your sympathy, care and be kind, they'll definitely appreciate this. This is a very stressful time for them and they need kind friends like you around them.
When my cat vanished, I had a huge influx of support from friends and family, even people I least expected.
Take your Friend for a Long Walk
If your friend's cat is known for roaming the neighborhood, then s/he could be hiding out somewhere in the local area. Take your friend in a walk around the immediate blocks and suggest they take some cat treats and toys with them. Doing something is better than doing nothing.
Talking to local people is very helpful when looking for a lost cat, especially these people:
Dog walkers
Joggers
Children – children will often search in places where adults won't! They usually know all the secret spots in the neighbourhood so it's worth speaking to parents who are out with their children.
Teenagers – same goes for teenagers who are out and about, ask them for help to find your cat.
Parents with buggies
Retired people
Local busybodies
Delivery drivers
The mailman – postal workers see so much, you'd be surprised!
It can be daunting and difficult to approach passers-by if you're alone, so by accompanying your friend you can use 'strength in numbers' to confidently approach people to look out for your friend's cat.
Especially if your friend is nervous, shy or has anxiety, by teaming up together it takes the pressure off slightly.
Besides, going for a walk could cheer your friend up!
Spread the Word on Social Media
Help your friend by sharing the word about the missing cat on social media. Share your friend's posts and look for opportunities in local groups to share as well.
If you know other people who live locally to your friend, tag them in a comment beneath the post to prompt them to keep an eye out.
Search for lost and found cats groups in your area for your friend to widen their search.
Set your post to 'public' so it can be shared outside of your friend group.
How to set your Facebook post to 'public'
When you create a new post, you can change each post's privacy settings individually. Here is how to do this on Facebook:
Remember to change this back for future statuses and updates that you want to keep private, that aren't about your poor friend's lost cat 🙁
Offer to Help with Printing
Printing can be a pain in the ass! Finding a printer with ink and paper, or even driving to a local copy shop to get some printed can be a big help to your friend.
If your friend isn't tech-savvy then you could design a kiss was poster or flyer for them to help find their cat.
You could also help distribute flyers around the local area. Here's a great example of a missing cat poster for your friend:
Make Phone Calls on their Behalf
If you're in a busy city or metropolitan area, there's probably a lot of animal shelters and vets to call around.
Help your friend by gathering a list of numbers, splitting it in half and sharing the load.
Stay Positive
If you want to help your friend with a missing cat, but you've searched and you're out of options, you've got to stay positive for them. Keep reminding your friend that the chances are that the cat will turn up soon, safe and unharmed. The odds are definitely in their favour. There are thousands of reunion stories where cats are reunited after going missing. But, it's difficult not to worry.
It may take your friend quite some time to get over this, so be patient with them if they're feeling down or upset over their missing cat. Remember that pets are family members and it's incredibly hard to deal with that loss, especially without closure.
This post contains affiliate links. That means that, at no extra cost to you, we may receive a small commission if you buy a product using one of the links on this page. Read our full disclosure here.