There is no mistaking the heavy, sickening ammonia stench of cat urine. Whether your cat is simply misbehaving, urinating wherever he or she wishes, or is spraying urine to mark territory, the disgusting and vile odor remains the same… This is a strong odor that will affect a surprisingly large area of the home, if your whole house smells like cat urine then the chances are the problem area is actually very small.
This article is here to help you remove the smell of cat urine from your home and prevent this unwanted behavior in your cat.
You will learn:
Which household cleaners are the most effective when your whole house stinks of cat pee
Different ways to track down the location of the smell
How to encourage your cat back into his/her litter box
Where to access further help and resources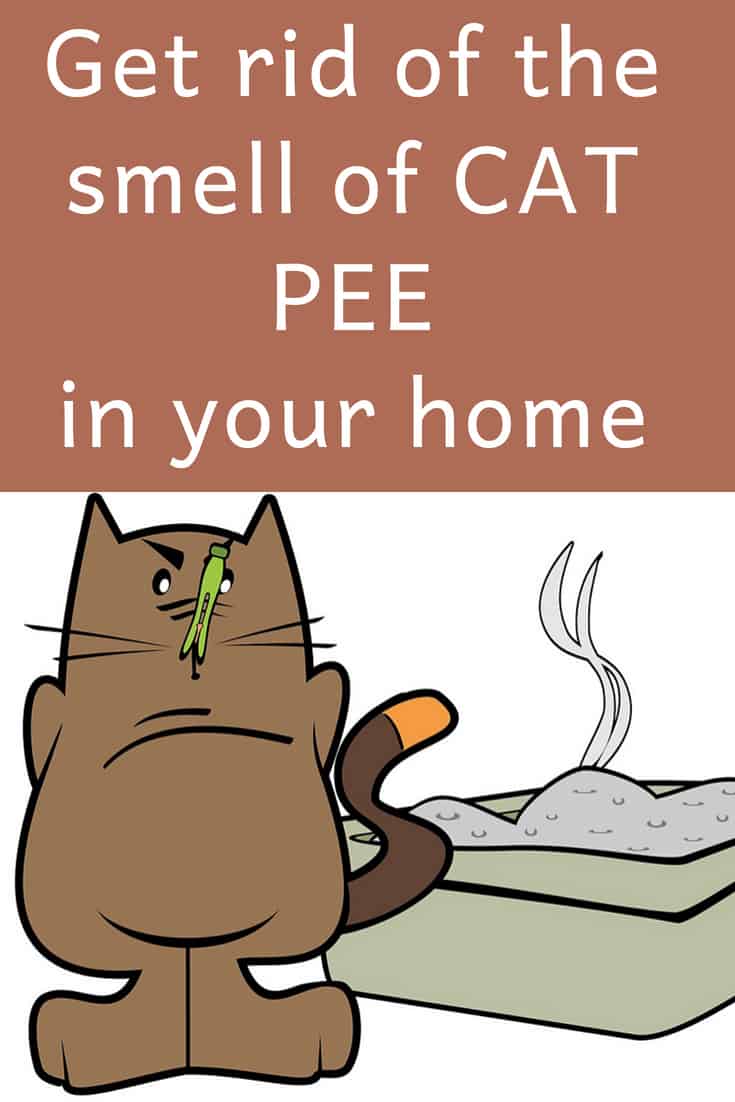 Find out Where the Smell is Coming From
First, you'll need to locate the area where your cat has decided to use as a toilet. If you're able to spot a puddle or a wet area on the rug or upholstery, count yourself lucky as you can begin cleaning it immediately. However, once the urine has dried, in most cases you will have to locate it by smell or by using a black light.
The blacklight method is very reliable for locating where your cat has urinated, as it will show up the stains that you can't see with the naked eye. Black light torches are very inexpensive and useful checking the cleanliness levels in hotels when you're traveling too!
Odor Removal Once the Urine Is Found
Once you have discovered the problem area, it's important to take some care to remove the urine as thoroughly as possible; not only for the sake of your nose, but to discourage your cat of thinking of that particular spot as a bathroom. If your cat can still smell his/her pee on the rug, s/he is likely to use that same spot again!
The organic compounds found in cat urine can pose some problems in removing the odor – some of the compounds are water soluble, but the uric acid not only is capable of binding to adjacent surfaces, but is not soluble by water. 
Although you may have read that soap and water or baking soda will remove cat urine odor, they will not. Some of the compounds in cat urine are not water soluble and require an enzyme cleaner to remove the smell completely.
You may need to repeat the process several times until all the odor is gone. Your nose will tell you when the job is done.
Tips for Cleaning Cat Urine
Wipe up the urine from hard surfaces with a paper towel and use the same to blot urine in furniture or rugs. Don't use cloth unless you are prepared to throw it away afterwards.
An enzyme cleaner is your best choice for removing cat urine. These cleaners are specifically designed to break down the uric acid into ammonia and carbon dioxide, which will simply off gas naturally afterwards.
Do not try to hasten the drying process after using an enzyme cleaner since it interrupts the normal dissipation of the ammonia and carbon dioxide.
Use the best enzyme cleaner possible – inexpensive cleaners often require multiple uses before they remove the odor of cat urine.
Be generous when applying the cleaner; you should soak the target area to allow the enzymes to really do their job.
After leaving the cleaner on for approximately a quarter of an hour, blot it up, then let the spot dry naturally.
Although rugs are the usual areas where your cat may urinate, beds, sofas, and clothing can also be sullied.
Use the same procedure on these as you did on your rug. Slipcovers and clothing should be washed separately on the highest possible temperature after they have been treated with the enzyme cleaner. Spray marking will be found on a vertical surface such as a door frame or chair leg.
Keeping the Litter Box Clean
Rather than getting angry at your wayward cat, it may be time to examine a critical element in the problem – the litter box itself. Cats are very clean animals, and one thing that can drive a cat from his or her litter box is a box that is filthy. Put yourself in your pet's place and imagine how you would like to use an overflowing toilet; you wouldn't, so why should your cat. Today's busy world often leaves us trying to do too much in too little time, but the litter box cannot be neglected.
Clumping litter is probably the best choice for the litter box. Not only does this kind of material make it easier to remove feces, but it also makes it simple to remove urine. You should use a scoop to take out the clumps at least twice a day, and if you are home most of the time, scoop the box as soon as your cat is finished. Remember to add a bit of new litter to compensate for what was removed.
The entire box should be changed once a week if you have only one cat using it and at least twice if you have several cats all using the same box. It's best to provide a box for each cat, however, to prevent one cat from dominating.
Get to the Root of the Problem
To stop your cat from peeing inside, you need to understand why s/he is doing it.
The Cat Spraying No More System carefully outlines various scenarios of unwanted spraying and targets possible causes in an easy to understand and well-laid out format.
The system eases the reader into the topic and playfully chides with owners about the author's own unfortunate experiences, how the author was able to overcome them, and how you can, too.
The author's encouraging voice helps cat owners understand their cats better. There are underlying reasons for why cats do what they do, and when things are not quite right, they react.
This system helps cat owners understand their cats better by discussing reasons why cats urinate outside their litter box.
It then outlines a system for owners to follow, based on their specific situation, so results are targeted and more effective. Depending on each scenario, there are detailed step-by-step instructions that are easy to follow.
The author guides cat owners with reassurance and support.
Benefits of Cat Spraying No More
Saving money and time. No more carpet cleaning, upholstery shampooing and time wasted finding these incidents and attending to them.
Tricks you can use to get your cat to "like" its litter box again. This system helps you direct your cat back to using the litter box, on its own, without force.
A home free of stress and smell. Once you see how easy it is to get your cat back on track with this system, your home will be cleaner, you'll be less stressed, and everyone will be happier. Trust me.
Helpful hints to effectively clean up the misfires. The system provides detailed instructions on clever concoctions that will effectively and permanently clean accident areas so you never know they existed.
Four bonus guides to boost your knowledge of caring for your cat:

Cat Training Bible

101 Recipes for a Healthy Cat

The Cat Care Blueprint

Pet Medical Recorder Software

An affordable and easy system to follow. Nothing in this system is overly expensive or difficult to execute. It also comes with a 60-day money back guarantee.
There really is no risk in trying out this product. With a no questions asked money-back guarantee, if things don't work out as you expected you get what you paid back!
Without risking anything, you will give yourself and your cat a chance to fix what's wrong and grow a little closer in the process. It's a deal worth every penny.
This post contains affiliate links. That means that, at no extra cost to you, we may receive a small commission if you buy a product using one of the links on this page. Read our full disclosure here.