If you're concerned about your cat getting lost or going missing, the Weenect GPS Cat Tracker is one of many cat tracking devices available that can help track your cat. This is a full and detailed review of Weenect, to help you decide whether it's right for you.
If you're considering buying a cat tracker, Weenect is a very popular choice for cat owners, it's the best-selling tracking product this year. But, despite all the hype, how do you know if it's right for you? Hopefully, this review will answer your questions about the Weenect Cat Tracker!
I bought this product after our cat went missing, which was one of the most traumatic and stressful moments of my life. There was no way I was willing to take that risk again, so I started researching Cat Trackers and Weenect was the second device I bought (the first one was TabCat).
Weenect GPS Cat Tracker Review
Weenect is a cat tracker that contains Global Positioning System (GPS) technology. It uses the GPS technology to detect the location of your cat, by means of a tracking device that attaches to your cat's collar and a mobile app. It tracks your cat from your smartphone (Yes, yes, we live in the future, I know…)
In order to work, the Weenect tracker requires a subscription to their tracking service, which allows you to access the tracking technology, web platform and mobile app. Weenect is a highly advanced tracker for your cat, with many useful features.
Features of Weenect GPS Cat Tracker
Wow! Weenect has a vast amount of features that will give you peace of mind when you cat goes out.
Real-Time Unlimited GPS Tracking with NO Distance Limit
That's right! Whether your cat is 20 feet away or 20 miles away, you'll be able to pinpoint his/her location with absolute accuracy.
Being able to track your cat's movements in real-time is both an entertaining novelty and a great way to find your cat, should s/he get lost or wanders too far.
Runaway alert
If your cat has wandered too far, the app will give you an alert to let you know immediately, allowing you to check his/her location.
Talk to your Cat from a Distance
The voice call feature allows you up to 10-minutes per month of calls from your phone to your cat's tracking device. This means s/he can hear your voice when s/he's out and about if you feel the need to reassure him/her. You will also be able to hear them, so if they sounded as if they were in distress you can be there in a flash!
Exploration History
Using the mobile app, you'll be able to see where your cat has recently been. This is great for answering the age-old question: "Where do cats go when they're roaming?" You'll be able to learn much more about your cat's territory and movements. Your cat probably has a routine or a patrolling area, it can be very entertaining (and surprising) to stalk your cat's location history!
Low Battery Alert
You'll receive an alert when the Weenect GPS Tracker's battery is at 30% and then again at 15%, giving you plenty of time to recharge it. It comes with a charging base unit in the box, but you need to use your own USB cable to charge it. Your phone charger will do the trick!
If you're 'live' tracking your cat, you will need to charge the battery regularly, perhaps every 2 days or so. The battery lasts longer on 'sleep' mode, with the GPS accuracy disabled.
Works both Inside and Outside
Whether your cat is hiding indoors or outdoors, Weenect will be able to find him/her! If you're inside, you can use the app to call the chip. It will make a noise and help you locate your cat.
The GPS tracking is for use when your cat goes outside to roam the neighborhood. You can use three modes on the app:
Map – see your cat's location on the map
Compass – see which direction your cat is in
Radar – uses your phone's camera for an Augmented Reality view to locate your cat
All of these modes are pretty cool and novelty to be honest, and incredibly useful in any situation where you need peace of mind about your beloved cat.
Water Resistant
Weenect GPS Cat Tracker is Water Resistant, it can handle any water that your cat may encounter, such as rain, splashes, drinking from the faucet (!!), etc. I haven't tried to submerge the device and I'm not going to!
Very Easy to Set up and Use
Upon delivery of the Weenect GPS Cat Tracker, I was so eager to get it set up. At the time, I had 2 cats and only one GPS Tracker. I was using TabCat at the time which comes with 2 trackers, however, this was the first GPS Tracker I've tried.
Setup was very easy, although it does require a subscription of $3.70, charged monthly. This allows you to track your cat accurately using the app and use the phone call/noise activation features as there's actually a SIM card inside the device.
Upon first use, you'll have great fun tracking your cat in real-time and testing all of these features out.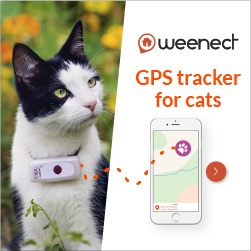 Pros of Weenect GPS Cat Tracker
2-year warranty
Accurate GPS Real-time tracking
Mobile app and web platform allows you to see exactly where your cat is in 3 different modes
Easy to set up and use
Lightweight – just 4.2grams (less than 0.15oz)
Voice call feature to talk to your cat from a distance
Runaway alert for extra peace of mind
Works very well indoors and outdoors
Rechargeable with USB cables, so no need for replacement batteries
Customer support is included in the monthly subscription fee
Cons of Weenect GPS Cat Tracker
Battery needs charging multiple times per week, depending on which mode you're using
The device is quite large for a cat, the cat wears it comfortable, but I don't feel so comfortable with its size. Although, it is very lightweight.
The monthly subscription is necessary in order to make use of all the features. It makes sense, due to the GPS data and SIM card, however, I feel that once you pay for something, then it should be bought with everything enabled. There's no free trial period, you get charged immediately.
Overall Rating of the Weenect GPS Cat Tracker
4.7/5 – An extremely reliable cat tracker with loads of features, perfect for anxious pet owners or those with high-risk pets (wanderers, cats with health conditions, pedigree cats, etc). You can't go wrong with this tracker.
Where to Buy Weenect Products
Click here to reveal the lowest price49
Weenect GPS Cat Tracker comes with a complete 2-year manufacturer's warranty.
Weenect is the best selling cat tracker on Amazon at the moment. Do you use the Weenect GPS Cat Tracker? Let us know what you think by leaving a comment below!
Weenect Cat Tracker
49.99
Pros
Extremely accurate real-time GPS Tracking
Very easy to set up and start using right away
Voice call feature
Runaway alert for extra peace of mind
Cons
Battery needs charging multiple times per week if using with GPS enabled
Fairly large for a smaller cat to wear on his/her collar
Monthly subscription cost