Cats are very independent animals, they can take care of themselves for long stretches of time and as a result, cat owners are quite happy to allow their cat to freely roam in and out of the house as s/he pleases. Most of the time, cats will stay relatively close to their home and will stick to their known territory. Sometimes, cats disappear for days at a time with little explanation, giving some very anxious owners some long and sleepless nights.
If you've wondered why cats do this, then I will try to explain it in this article. I'm by no means a cat behavior expert, but I have a lifetime's experience of being a cat owner. I've had indoors cats, outdoors cats and a combination of the two. This article will explain different theories as to why cats disappear for several days at a time without a trace and then reappear several days later as if nothing happened.
Sometimes, very sadly, cats don't return home. If your cat is currently missing, then remember that the chances are in your favor and so many cat owners spend days fretting, only for the cat to saunter back in through the door without a care in the world (except for, you know, "feed me now please!")
Also, don't forget to check out this complete step-by-step guide of what to do when your cat goes missing, which is very thorough in helping you find your cat. If you want complete peace of mind, then a discreet cat tracker that's attached to your beloved cat's collar could give you that security you need. Not all cat trackers are created equal, so here's a list of best cat trackers and a guide to their features.
Anyway, back to the original question…
Why do Cats Disappear for Days at a Time?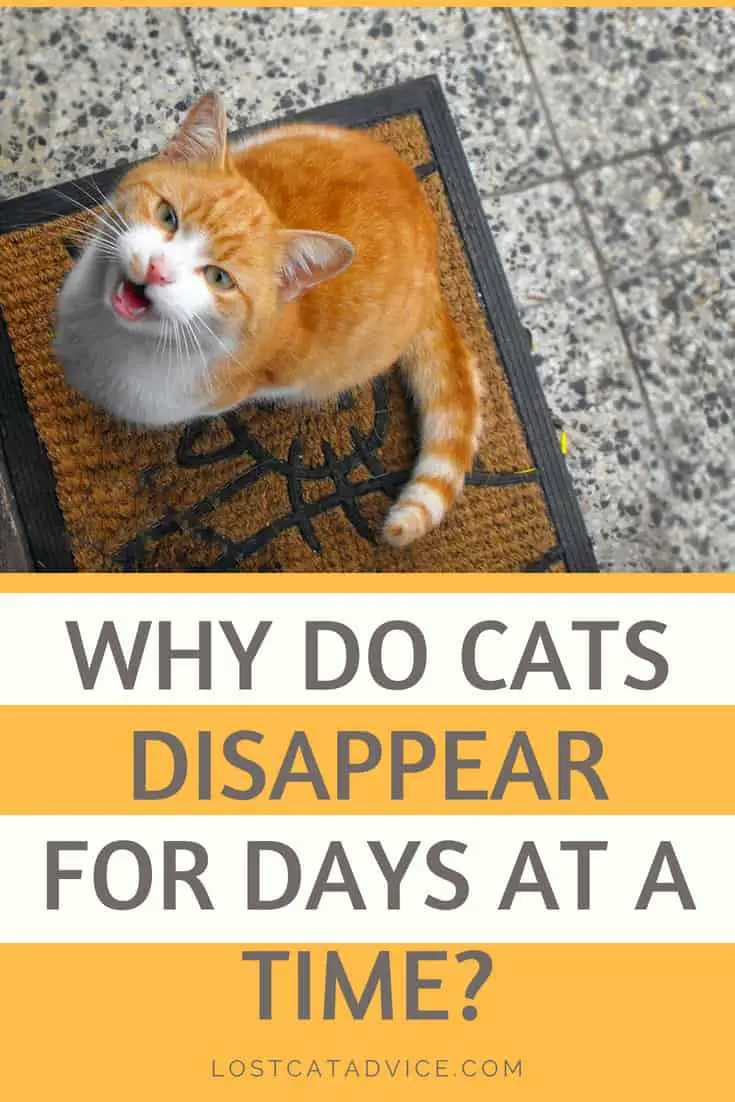 There are a plethora of reasons that your cat has gone awol, we all know that cats are very curious creatures who love to explore places they shouldn't. That's partly why we're so attracted to cats in the first place, they're adorably adventurous and we adore them for it.
Un-Neutered Cats are a Greater Risk
If your cat isn't neutered (male) or spayed (female), then they're much more likely to wander off and disappear for longer periods of time. Male cats will hear the calls and pick up the scent of female cats (queens), who will be calling out when they're in-season. Males will wander purposefully around their territory, which is bigger than that of their neutered feline friends.
Sometimes, unspayed female cats will wander further away if they're unable to find a male cat to mate with. So, by spaying and neutering your cats at the earliest opportunity, you're protecting them and giving yourself peace of mind that they won't wander as far.
There are many other benefits to neutering your cat(s), including…
Avoid having unwanted litters of kittens, all of whom will need good homes, vaccinations and checking by a vat (which costs $$$)
Your cat is likely to live a longer live than an unneutered cat
Prevents unwanted cat behavior, such as male cats spraying or female cats calling. Whilst this is completely natural, it can be annoying and distressing for the owner.
So, get your cats neutered!
They get Genuinely Lost
Sometimes, a cat will be happily chilling in its own safe territory. Suddenly, a car backfires nearby that startles the cat, who is already a bit skittish and that cat darts off to find a hiding spot. When the cat feels ready to come out of the hiding spot… s/he is confused, lost, nothing seem familiar. This is how a cat gets lost. Cats are not stupid and their instinct for familiarity is strong, so rest assured that any lost kitty will be searching for those hints of familiarity.
Doing small things like scattering your cat's dirty cat litter around your back yard or hanging his/her blanket on the clothes line can help your cat find his/her way home. Read our full step-by-step guide to finding your lost cat here.
They get a Better Offer
Sadly, and frustratingly for cat owners, sometimes cats just want to be somewhere else. If your cat is happier somewhere else and gravitates towards that area, there's not much you can do to stop him/her from roaming over there.
It may be that your cat has found another home, where s/he feels more relaxed and content. Or, there could be something in your home environment that could be pushing the cat away. It may even be outside of your control, like an unruly dog in the neighbor's yard.
Cats are very determined. If this has happened to your cat, but you know they're safe and happy, then you just have to leave them be, even if it is heartbreaking for you.
Urgent Cat Business
You know when your cat is just lying there, chilling, before s/he suddenly runs through the door? That's because s/he has to attend to urgent cat business, that only cats know the details of.
All silliness aside – you'll just have to accept that sometimes, there are matters that are more important to your cat than being at home. Perhaps sleeping in a tree, hunting mice in an old barn, or even hiding somewhere in your own house.
---
How to Prevent your Cat from Disappearing
If you want to prevent your cat from going missing, getting lost, or wandering too far, then there are a few different things you can do.
Get your Cat Microchipped
There are so many benefits of microchipping. If your cat is microchipped, they stand a much better chance of being found if they do wander off. Kitten owners generally get their cats chipped at the same time as neutering. By doing so, they're protecting their cat for life.
Microchips can be detected by vets and animal shelters who have hand-held scanning devices used to detect the chip. The chip is connected to a database that contains your contact details, should the cat get lost or go missing. The vet or animal shelter can then contact you to reunite you and your cat.
Take Lots of Photos
This is really important, as if your cat does go missing then you'll need a good set of photos to show people or to share on social media. If you're an Instaholic, then this is a good task for you to do right now!
Take photos of your cat from different angles, a front-facing photo and a profile (sideways-facing) photo. Also, take a close-up of his/her face and a photo from a distance. If your cat has any distinctive markings on his/her fur, then take photos that clearly show these too.
Neuter/Spay Your Cats
I've already highlighted the benefits of neutering. Cats who are neutered are less likely to wander far. Their instinct to roam is restricted by neutering, making their homing instinct stronger.
There is sometimes financial support available for the procedure if you're on a low income. This depends largely on where you live and what's available!
Get a Cat Tracking Device
If you want to be really sure that you'll be able to find your cat if s/he goes missing, then do all of the above and invest in a cat tracker for your cat's collar.
There are different types available to suit different budgets. The most popular brands include Loc8tor Tab Cat, and Whistle. They're all very discreet and lightweight.
Read our detailed Cat Tracker Reviews here, or check out the Best Cat Trackers of 2018!
Make Friends with Your Neighbors
This is vital if you want to prevent your cat from getting lost. Being on your neighbors good side can mean the difference between your cat getting found and him/her staying lost. Unfriendly neighbors are the worst when you're looking for a lost cat, as they're not always willing to help or check their outbuildings, etc.
If you have neighbors who don't like cats, that's OK. They're making friends with you, not your cats. If they trust and like you, then they'll understand your plight if you end up having to search for your cat and be more willing to help.
Read more tips for preventing your cat from getting lost here.
Moving House?
Moving house is a very stressful time, with or without pets! Having a cat to worry about is an added stress. By careful planning and understanding your cat's behavior, you can make the process of moving house with your cat stress-free!
Decide upon a plan for moving your cat. In my experience, it's best to ensure the cats are out of the way when large items of furniture are being carried in and out of the house. The doors are wide open, a prime opportunity for your cat to sneak out and hide somewhere.
It's also common to keep your cat inside after first moving. There's no specific amount of time, but your should definitely keep your cat indoors for the first 2-3 weeks after moving to a new place.
Read the complete guide for moving house with your cat here.
Further Reading
If you enjoyed this post and want to learn more, check out these other resources for cat owners.
Thanks for reading!
This post contains affiliate links. That means that, at no extra cost to you, we may receive a small commission if you buy a product using one of the links on this page. Read our full disclosure here.